Windows 10 Technical Preview

October 04, 2014

admin

No comments
Windows 10 Technical Preview is the first test version of Windows 10, the new OS from Microsoft presented at a press conference in September 2014 The operating system basically brings a mixture of the main tools of Windows 7 and Windows 8, according to the developer itself.
Among these tools, we finally have the Start Menu back, a system of multiple workspaces, a method of organizing more efficient windows and apps from the modern Windows 8 interface, which now function like ordinary windows or full screen.
Start Menu
Many people complained about the lack of the Start Menu in Windows 8 . Actually, it was replaced by the Start screen, which was not well received by most users of the OS. With some updates, Microsoft was minimizing the problem and, in Windows 10, decided to recreate the Start Menu.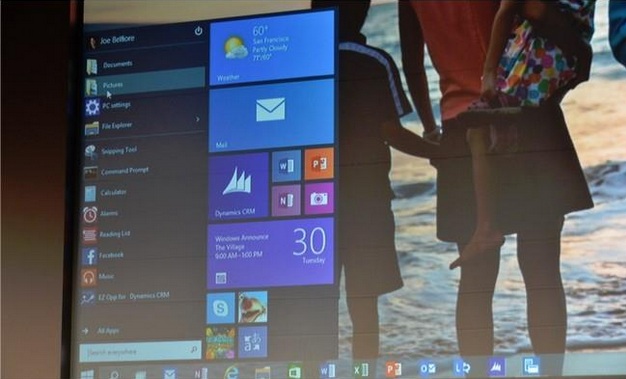 It has been refurbished, but still have those functions with which everyone was used to in Windows 7 Along with this, the live tiles arrived and now can be accessed from the new Start Menu. They are even customizable, just as they were in the Start Screen.
New organizer windows
In recent versions of Windows, when you dragged a window to one edge of the screen, it auto fit and shared their work area into two equal parts. Now, if you do this, Windows will immediately suggest to you other options organization.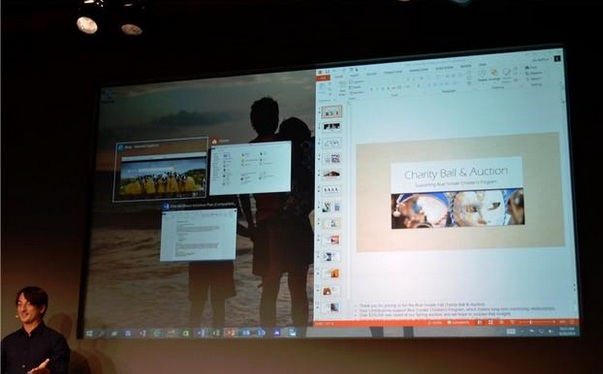 So, you do not need to drag a window over to have its duly split screen, since the OS identifies your intentions. Other than that, this system also allows the organization to make an automatic grade of up to four windows of equal size.
Another important detail is the possibility of using the apps of the modern interface of Windows 8 as ordinary windows. That way you get to organize these elements in your work area in the same way as any other program developed in desktop format.
Multiple workspaces
That was one ignored by Microsoft for many years in the field of desktop systems function. Various Linux and Mac OS X itself already use a manager of multiple work areas and now with Windows 10 Technical Preview, this function is now part of Windows.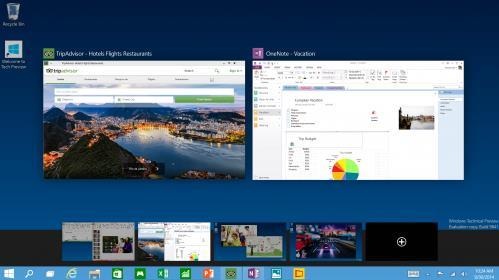 This means that you can have multiple desktops at the same time and put them how many windows you want, how many icons you want and so on. It's a great way to organize separate work and leisure, for example.
There is a dedicated button for that bar manager in Windows 10 Technical Preview tasks, next to the Start Menu. It's called "Task View" and also takes care of your open windows at once.
New file explorer
Windows Explorer has been redone and is now more intelligent. It makes the most visited user folders in evidence and allows you to search throughout the operating system. This means that you can get not only files and documents as may also search apps installed on your PC.
The search tool of Windows has also changed and now you can search files, apps and web results. It is fixed in the Start Menu and Taskbar to make your life easier. Out all this, Microsoft still promises to significantly improve the performance of the OS in general.
Installation
To install Windows 10 Technical Preview on your PC, you need to download the ISO image (x86 and x64) and burn it to a DVD or unpack everything into a bootable USB stick. Performing this installation works much the same way as in Windows 8.
While you download the file, you need to sign in Windows Insider program to register and participate in testing the OS. Without it, you will not be able to receive updates. To complete the installation, use the product key that is generated during enrollment.