Top 5 Free Best HTML Editor for Windows

October 21, 2012

admin

2 Comments
List of best free HTML editor for Windows operating system.
CoffeeCup Free HTML Editor
CoffeeCup Free HTML Editor is a HTML editor with FTP server resources. It has templates for tables, frames, forms and fonts and HTML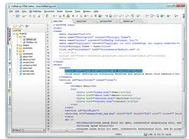 4.0 tags and XHMTL. Menu templates has, 25000 pictures and photos, 1000 in Windows XP style icons, more than 100 DHTML and Javascript codes and more.
AceHTML Editor
Ace HTML Editor that allows you to manage professional websites. You can get full control over your web projects using design tools,
and it has fully customizable interface. With this software creation and management much easier and practical working with HTML, JavaScript, CSS, ASP and PHP.
PageBreeze Free HTML Editor
It is a powerful free HTML editor that merges a graphical editing mode and HTML. It works quite well with forms using a drag and drop
and does not require you to know programming scripts. This application also offers access to hundreds of models with colors, columns and links ready to facilitate when creating Web pages.
Notepad++
Notepad++ is a text editor and source code editor that supports several programming languages and, thus, a great alternative to
Notepad. It is more advanced and versatile than other text editors, it supports the languages HTML, C, C + +, Java, C#, XML, PHP, Javascript, etc.
KompoZer
Undoubtedly KompoZer is an excellent tool for developing HTML pages. Not only for being a WYSIWYG editor, but also for offering
reliable resources and high quality. It is a software stable and showed no flaws in our tests. Graphical interface is nice and easy to use.
2 Responses to Top 5 Free Best HTML Editor for Windows