Top 5 Best Free Windows Virtual Desktop Manager Software

October 22, 2012

admin

No comments
Top 5 list of free and best windows virtual desktop manager software.
Dexpot
Dexpot is free, and is very light and easy to use! Dexpot is a desktop manager for Windows, which stands for the size, speed and

usefulness.
The possibility of using a wallpaper for each workspace is a great advantage. It does not occupy much space on the HD and you can create Up to 20 Desktops maximum.
VirtuaWin
VirtuaWin creates multiple virtual desktops on your computer, giving more freedom and space for you to open and use multiple

programs at the same time. This application is lighter (the program has only 372 KB) and easy to use, you can increase your daily productivity, significantly improving your organization.
Virtual Dimension
Virtual Dimension is a complete and free for you to manage one or multiple desktops. It appears as a small window on your desktop,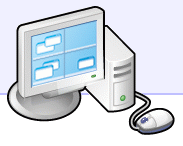 containing icons of all programs that are currently running.
Settings provide options like creating shortcuts and quickly change the wallpaper, the background color and even rename each desktop individually.
GiMeSpace Desktop extender
GiMeSpace Desktop extender is a strange program, but of some use. Learning to use it is the first major difficulty, it is necessary to
remain constantly aware of where each window.
Anyway, using Desktop GiMeSpace extender requires practice, especially if you often leave your windows maximized. In general, it is a useful program, but you need to test it to find out whether or not you want to incorporate it into their daily lives.
360desktop
360desktop brings a modern experience for viewing Desktop, allows 360 turns. The program provides options for you to create a
custom background, applying wallpaper 360desktop's own, and can enter multiple widgets (small applications with a graphical interface available, usually on the desktop) to the Desktop.
360desktop is an interesting option to customize the Desktop. You really can rotate and scroll the screen like a panoramic photo. It is highly recommended that you restart your computer after you install the program, otherwise some lags may occur.