Top 5 Best Free Windows CD / DVD Burning Software

October 21, 2012

admin

No comments
I have collected top 5 best free windows CD / DVD burning application.
ImgBurn
ImgBurn is one of the best and most reputable free programs for CD / DVD creation and image files.
It is an intuitive interface, because it has large buttons and well distributed across the screen, this software makes life much easier that you need this type of service.
With ImgBurn you can burn easily and fast data and image files. Supports all popular extensions and offers advanced options available to advanced users.
ImgBurn is not limited to burn only, but it also allows you to create your image file by choosing data and files.
ImgBurn is a simple utility to use, powerful, free and available in different language through the installation of a language pack .
Formats supported by ImgBurn
BIN, CDI, CDR, DI, DVD, GCM, GI, IMG, ISO, LST, MDS, NRG, PDI and UDI.
BurnAware Free
The BurnAware Free has a new look, with a very lean interface and intuitive buttons and well categorized by user interest. The
recording process has very few steps, which makes the program much simpler and easier to handle than many famous competitors. BurnAware software is free and lightweight, simply burns data or image into a CD, DVD and Blu-ray.
It has features to create disk images like ISO, BIN or CUE.
BurnAware allows you to burn data discs, or music video (Audio CD or MP3) to a CD, DVD or Blue-Ray.
CDBurnerXP
CDBurnerXP is a free program for recording CD-R, CD-RW, DVD+R/RW, DVD-R/RW, Blu-Ray and HD-DVD's.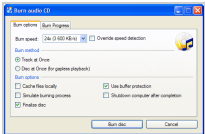 This application also allows us to create bootable discs.
It has clear and friendly interface that enable us to easy access to the primary functions: audio CD burning, image creation, burn disc images, copy directly from CD to CD, etc.
InfraRecorder
The InfraRecorder is a lightweight, easy to use application. It is an efficient program to burn quickly and easily to CDs and DVDs.
With InfraRecorder you can burn CDs or DVDs of data ("Data Disc "), music CDs (" Audio Disc), DVD Video ("Video Disc"), burn an ISO image in the media ("Write Image"), copy the contents of a disk directly to another ("Copy Disc") and create an ISO image of the media that is inserted into the disk drive.
It can also erase rewritable media content, integrate with the menu Windows context, finalize discs with extra space, save projects without having to create an image, display the information in the disc drive or the drive itself, configure the properties of a project (option for advanced users), and even copy the contents of a media onto your computer.
The program is able to perform the tasks most often used by ordinary users, how to delete content from rewritable discs and copy media.
Ashampoo Burning Studio
It can burn files and folders to CDs, DVDs and Blu-Rays, backing up the contents of your computer, create music CDs to play on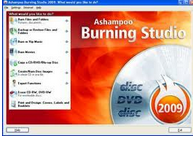 common appliances burn movies to play on DVD players or Blu-Ray copy discs, burn disc images (ISO), create covers, among many other options.
Ashampoo Burning Studio is a program to burn discs used and most famous in the world due to its complete functions, ease of use and simplicity of program its commands.
Create and print covers, labels and booklets for your media
It is compatible with ISO, CUE/BIN and ASHDISC images.