Top 6 Best Free Duplicate File Detector for Windows

October 21, 2012

admin

3 Comments
I have listed top 5 free and best duplicate file finder for windows operating system.
SearchMyFiles
SearchMyFiles is a comprehensive tool, the interface includes all options in a single window, which can make the tool confusing at first glance. Search filters allow you to search with a high level of refinement, defining texts of files, dates and attributes to the system.
The results actually appear according to the selected parameters, even if the search takes a little longer than the standard Windows tool.
Moreover, the program is relatively demanding with respect to CPU, consuming up to 40% of the processing power of the computer when the search is performed.
Auslogics Duplicate File Finder
Auslogics Duplicate File Finder is a simple program whose main function is to analyze all the disk drives available on your computer for
duplicate files.
However, it is not a basic tool since it is able to find duplicate files not only by name or creation date, but also based on their internal content.
With the ability to apply multiple filters, it is virtually impossible for Auslogics Duplicate File Finder miss the existence of identical files. However, you should pay attention before deleting any item displayed in the list of program results. After all, if you have a dual-boot machine or more than one user, it is normal that there are repetitions related to installed software.
The search speed can be low or high, it all depends on the amount of criteria you applied in search settings.
Anti-Twin
Anti-Twin is a program that works in order to help you identify different types of duplicate files that are on your computer.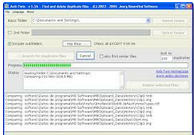 The Anti-Twin proved very functional as an alternative time to conduct searches for duplicate files within the computer, because it brought good results during our tests.
The program features a simple and straightforward interface, including helpful tips of how it can best be used. Its functions are presented in a kind of step by step, in which it is impossible to forget to mark the desired option.
It gives Good results in searches for images.
The software allows you to delete or move the files found, functions not available in many programs of its kind. However, you must delete one result at a time, lacking even an option for you to be able to perform a batch cleaning, getting rid of everything in one motion.
CloneSpy
This program is not the simplest to use, but proved very efficient for finding similar files. With the option to not delete them
immediately, using CloneSpy becomes quiet and safe.
It is recommended not to run any application while the CloneSpy search for duplicate files. Do not save or delete files or folders.
The program requires no installation, simply extract the content downloaded to the folder you want.
The CloneSpy can detect and remove duplicate files regardless of their name, date or location.
Fast Duplicate File Finder
Fast Duplicate File Finder is a very lightweight application, but it will help perform a cleaning on your computer. Generally, we use the
computer to perform various tasks, such as editing photos, downloading music, movies, send and receive emails, for example. If we do not take proper care in time to delete some files, inevitably, they will accumulate in the machine, which causes delays and unnecessary use of HD.
Fast Duplicate File Finder is a good program and meets all the promises. Moreover, it is extremely easy to use, making it easy to operate even for the most inexperienced users.
Exact Duplicate Finder
The Exact Duplicate Finder is a program whose goal is to find duplicate files on your computer and delete them automatically. It
requires no installation, just store the directory of your choice and run directly from the file.
The program interface is quite simple, just presenting options for the program functions. The menus and buttons are organized in order to present an intuitive structure of steps, even if you have never used such a program.
The search for duplicate usually do not take long, even in directories slightly larger and with a considerable amount of files. Additionally, unlike many programs, it allows more specific searches, which can reduce the operation time.
3 Responses to Top 6 Best Free Duplicate File Detector for Windows