Top 5 Best Free CAD Software for Windows

October 27, 2012

admin

No comments
I have collected list of windows free and best CAD program.
Google Sketchup
This application is for starters and free, which already earned many accolades. The interface is really intuitive and flexible compared to
other programs of this kind, which are much more complex. The learning curve is practically nil, since you can start creating as soon as you run the program.
The models created can be saved in various formats and integrated with other Google applications like YouTube. All objects are geographically coded for use in Google Earth, which provides creating projects as close to reality as possible.
In fact, SketchUp is easier than other programs, but that does not mean that any user will be able to develop whatever comes to your mind so easily. Previous knowledge on vector drawings are very welcome and should make all the difference in the speed of learning and familiarization of the designer.
Sweet Home 3D
Sweet Home 3D is a great way to plan for that change of decor that needs to be done for a long time or just play a little, imagining and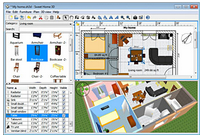 building a dream house. Easy to master a system that provides impressive results.
Sweet Home is a beneficial tool for those who want to change the layout of interiors, extremely simple to use, without limitations and with great results.
Sculptris
The program is incredibly simple to use and offers great precision and ease for most lay person. Sculptris is an excellent tool because it
is lightweight and does not require installation.
In terms of interface, the application is fairly straightforward, except when it comes to saving files in formats such as PNG. For this, the user is required to access other areas of the software that might not be necessary if this option were more accessible. Even so, the program remains one of the most interesting creations that the ever seen on the internet!
 3D Canvas
Lightweight and with a number of resources to the user to create professional-quality animations, 3D Canvas draws attention for its
ease of use and the proper number of development resources.
The program is free and its interface is simple to implement. In the home screen comes up a dialog with links to several tutorials that can be accessed directly on the page of the developer.
The menus and tools are located on the left side and on the top bar of the desktop program. Its look is very reminiscent of the image editors and video programs generally more friendly and interfaces with which users are most accustomed.
Blender
Blender is a great tool, with features that are normally available for applications with exorbitant prices, which easily exceed thousands
of dollars. Its ease of use and lots of tutorials and forums dedicated to the program around the world ensure that any user can use this program as a professional tool or an educational way to learn the fundamentals of three-dimensional modeling.