Top 3 Best Free Tennis Games App for Android Smartphones

August 08, 2014

admin

No comments
List of best free  tennis games app for android smartphones and tablets, tennis  is known and entertaining game for every age individual from kid to old age.
Tennis 3D
Tennis 3D is a game where you test all your skills on the court of grass or gravel. In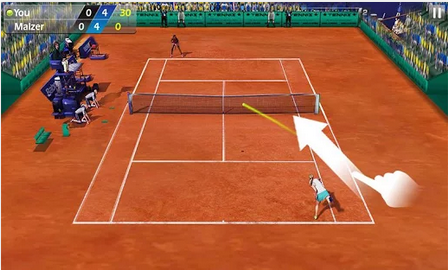 the title, each point is disputed and the idea is to transport the player into a real competition.
Are numerous game modes. You can choose a career that allows a player to leave the amateur level and become a great champion; The championship, which is an alloy of consecutive points; the tutorial mode to learn to hit the ball and a multiplayer against players from around the world or a friend that is in place (with each person using half the screen).
At the right moment, just slide your finger to the desired direction and wait to see if the bid was valid. On serve, just repeat the movement twice to throw the ball as fast as you can.

Ace of Tennis
If you love tennis and want to be able to have fun with this sport wherever you are, this little game for Android is a great alternative. It allows you to choose a country to defend and play against several others in a championship sport.
Once you choose to defend the country, you need to follow an order of competitions, from the easiest to the most difficult teams to beat. Get good scores and score three stars in each of the games. To complete a level, you need to manage to win the match, even with a tight score (which makes you get less stars).
Stick Tennis
The Stick Tennis is without a doubt one of the best tennis games ever released for
Android. The game shows a lot of fun, with matches being played simple and uncomplicated way for you to play.
Controlling plyer is easy because you only need to drag your finger across the screen to get it on their scams on ball. Even if you do not control the movement of the player by the court, the games are fun and maintain a good degree of difficulty. The response is good and you can make use of a satisfactory variety of moves.
The graphics are really cool. Despite bringing features like the cartoon, it shows quite whim. The dolls come with their own characteristics, which differentiates between the tennis players themselves. The courts do not have great detail, but also not fall short, appearing in a small range, but satisfactory. There are also good sound effects, like the noise of raquet or the sound system and the crowd during matches.
The Stick Tennis also has a wide variety of game modes, allowing you to compete from friendly matches to entire championships.