Top 3 Best Free Online Karaoke Website

August 09, 2014

admin

No comments
We have listed some of the best and free online karaoke website, where you can sing a song, record them and share to social media.
Karaoke Channel Online
The Karaoke Channel Online is a tool (requires Flash ) whose purpose is to provide accompaniments for the recording of people

singing their own versions of popular songs. The service has an extensive library of over 7000 different songs, which can also be enjoyed for free members. If you do not pay the membership fees to the site, you can sing a few dozen titles.
The player always present at The Karaoke Channel Online has normal playback options and also the recording function, which automatically disables the lead singer of the song to record your voice in place and you can share to social network. In addition, the player also lets you change how the lyrics are displayed on the mic and the speed of instruments.
KaraokeParty
KaraokeParty is an online service that allows you to sing popular songs and find out how well you are able to interpret them. For
this, you will need to have a flash player, a microphone, headphones or speakers, and especially very little inhibition at the time of releasing the voice! For your note is directly proportional to how much you are able to master the height and duration of your voice. You can choose to listen to the full song (easy level), and then only with the instrumental and the second voice (hard level) . In KaraokeParty there are several songs from famous artists, but if the one you want does not exist in the list, you just ask and the staff will see if KaraokeParty includes it or not!
SingSnap
The SingSnap is a great app to train and do well in the karaoke, sing and share their recordings apart from internet or even for the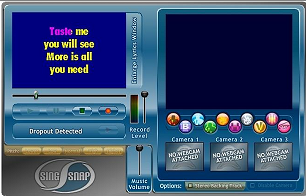 timid, who like to sing, but are too embarrassed to do it with many people coming. For these, even the camera can be turned off, so only the voice becomes public.
The microphone needs to be well configured because of noise and interference. If you are using a notebook with built-in microphone, for example, put the sound in a headset, otherwise, it will issue a bad background noise in your recording. If you have an auxiliary microphone (even if the notebook), remember that the built-in microphone to be turned off or cause a very strong interference.
The volumes must also be properly configured, or you risk your voice be overridden by the music or simply not appear in the recording. If you do not devote time to these details, will surely get low quality results. In most, sing, have fun and share the results with your friends with this karaoke program online.