How To Block Facebook on Your Computer | Block Any Websites

November 02, 2011

admin

No comments
It's very easy to block the facebook in your computer or PC without using any software. I will show you how to do in few steps. The method sh0wn below can be use to block any websites temporarily or permanently:
First you open your My Computer, and in C:\ (C Drive) open the "Windows" folder.
Inside the Windows folder search for "System32" folder. Inside inside it open "Drivers" folder. And, at last open the "etc" folder, inside it you will get "hosts" file. Open host file with notepad.
OR. Simply open "Run" from "Start", insert "C:\Windows\System32\Drivers\Etc" into it. And you will get "host" file.
Then go to the bottom of the file, until you get "127.0.0.1       localhost". And you write the following:
www.facebook.com 127.0.0.1
facebook.com 127.0.0.1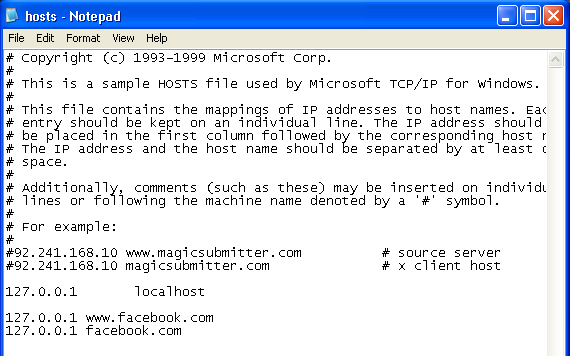 Save the file. There you go, Facebook is now block from your computer. It can be done  for any website just follow the above method.
Quite simple isn't it.