Best Free Video Call service for Video conferencing

March 02, 2014

admin

No comments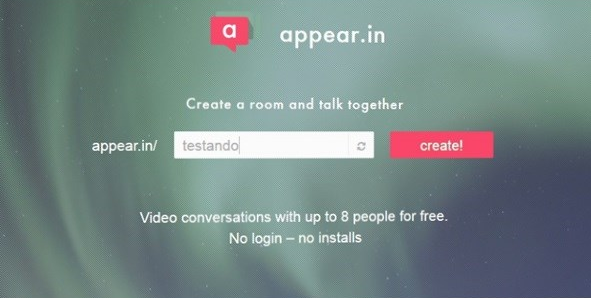 Appear.in is a completely free online service that lets you make video calls with up to eight participants. Furthermore, you do not have to register to use it, requiring only access the link given below and access your room.
No need to do any installation on your computer to use the service and it is compatible with the browsers Google Chrome, Mozilla Firefox and Opera.
Moreover, it is a lighter option than many existing programs to do the task, consuming a small amount of computer resources. In addition to voice services and microphone, the program also includes a window for writing messages, which can facilitate understanding in some cases.
For those who enjoy customizations, the background of the screen can be changed to fit your needs and your personal taste. Likewise, the conference room can be locked for external access and even be "acquired" by the creator, keeping it in place for future access.
Talking distance
Videoconferencing can be useful in many situations. They can serve, for example, to kill the longing for someone who is distant, making it possible for you to "see" the person in question and avoiding a violent telephone charge. Likewise, this type of call is also useful for business meetings between offices of a company, for example.
Whatever your need, you can count on Appear.in to perform this type of operation directly by the browser. The program has a very simple mode of operation and thus to access your home screen, you can now mount its first conference, typing the desired name in the interface field.
That done, you must grant the necessary permissions and then can already invite participants of the call. For this, you need only share the link of the page, and there is a button for you to copy it available at the top left of the screen. If you wish, you can use the service in full screen by clicking "Engage fullscreen" option.
Organizing the screen
Before receiving the participants or even after their connection, there are some options that can be adjusted. You can claim the use of the room created in "Claim room", and even change the background of the screen. If everyone involved in the call are already present, you can lock the conference, avoiding others can also perform access.
Note that when there are several people at the conference, the service interface divides its space to accommodate everyone. Hovering over your screen, you can find options to share the content of the display, mute the microphone and disable the camera. For other participants, there are alternatives to remove the person from the room and expand the contact screen.