Best Free Game Booster Software for Windows

March 01, 2014

admin

No comments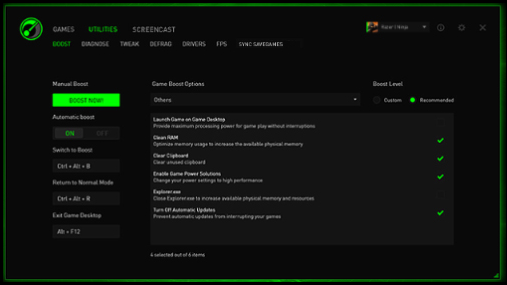 Razer Game Booster is best free application created for those who want to take full advantage of the power of your PC to play. When enabled, the software automatically turns off all type of application that is consuming memory or processing system – so your game is free to rotate without hindrance.
In order to use the Razer Game Booster, you must have an account on the service. Simply click the "Create Account" to register and follow instructions passed.
Optimized in two steps
The operation of Razer Game Booster focuses on two main tools, each with a different goal, to make your system even faster.
The main tool for Razer Game Booster off all heavy software running on your system – Office applications, PDF readers and Internet browsers, among others – so a game is connected via the Launcher. But do not worry: all programs are restarted when the game is closed.
Utilities
What use to reduce the number of open applications when your PC is outdated and full of other small problems? Because that's what comes "Tools". Through this area, you have access to the following:
Boost : enables improved system without opening any games;
Dignosticar : scans and indicates system problems;
Adjust : make small changes to the system so that it working faster;
Defrag : defragment your system to increase performance;
Drivers : looking for drivers updates your computer;
FPS : option to display the frame rate per second during its matches.
Sharing adventures
Currently, it is common to want to record our experiences with games, and then share them on streaming video services. For cases like this, the Razer Game Booster brings the Gallery menu.
In this area, the application focuses the main tools of the genre famous software like Fraps, allowing you to track the number of frames per second that your game is running, as well as record videos and take pictures of the game screen. Just configure the tools to your liking and start using them.