Best Free Emoticons for Facebook Chat and Comments

February 26, 2014

admin

No comments
Emooji is a best and free tool for those who love to use emoticons, smileys and other animals thumbnail images to Facebook. With this program, you get dozens of options over the figures to complement comments, posts and images.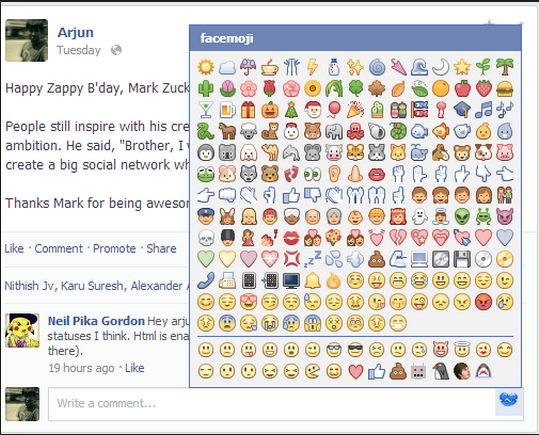 This application is excellent for lovers of the thumbnail images. There are hundreds of emoticons that do not appear in traditional Facebook.
Emooji Facebook is a tool that greatly expands the possibilities of comments for those who love using emoticons and other figurines in the comments of social networks.
This tool is a good way for you to vary the posts on the site and surprise your friends.
There are three choices of emoticons:
Regular: the traditional images of Facebook
Secret: 143 figures with animal faces, faces expressing other emotions, kisses and hearts, among others
ASCII: over 140 emoticons "oldschool" and minimalist, black and white, mixing musical notes, facial expressions and symbols
Also, be careful with advertisements: when enabled, automatically Emooji few tabs open advertising of games and programs on the screen – many of dubious provenance.To insert an emoticon, simply click once on the desired icon. It automatically appears in the text box, can be supplemented with a normal message and appear for all contacts, whether or not they have installed Emooji.