Best Free Android Puzzle Games for Smartphone

September 11, 2014

admin

No comments
We have list of best and free android puzzle games for smartphone and tablet, where you need to solve the different types of puzzle.
2048 
2048 is a puzzle game in which your main goal is to form a square of 2048 points. To achieve this, you should join identical
numbers pairs, which should grow steadily until it reaches the maximum value of the match.
To play, just slide your finger across the screen, up, down, left or right. Eachtime you make a move on the screen, a new number 2 (the first number) appears on the screen. Your goal is to join the two numbers so that they form a four, four two numbers to form an eight and so on.
Special Enquiry Detail
Special Enquiry Detail will allow you to dive into the world of crime, police investigations and explorations for clues. The title has a style Point and Click on the player, as you explore new scenarios, should touch the objects in the environment to interact with them or make discoveries.
The Room
The Room is a game developed for Android where you can find a slew of mysteries to solve. Although it seems simple, the difficulty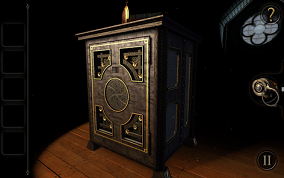 of the game promises to challenge your logical thinking ability.
All commands work The Room by touch, with few action buttons – if they are to return to the screen, pause the game and show a hint for when you have no idea what to do.
With realistic graphics and a challenging difficulty, The Room holds your attention from the beginning. After all, you begin the game trapped in a room with a huge box in front. To explore the surroundings, you find a note that clearly is a challenge: you must use all his cunning to discover where the secrets are hidden and how you can unravel them. Your progress is saved when you exit the game from the main menu.
Install (The Room)
Install (The Room Two)
What Can You Escape
What Can You Escape is a game of exploration scenarios that puts the player in very specific adverse situations. Phases of the title you find yourself stuck in different rooms that bring closed doors. Your task is to give a way out of all of them.
One of the great advantages of Can You Escape is the fact that it does not work in a continuous manner as the various games style. Everything is separated into phases and each surpassed, a new location even more complicated to be overcome appear as your challenge level.
Unblock Me Free
Unblock Me Free is a game in which you must unlock the way to take one of the pieces to the exit. The choice can be
red or brown, depending on the theme you choose to play.
Clicking the Play application offers two modeos game Relax Mode (relaxed mode) and Challenge Mode (challenge mode). The first mode does not count the number of moves you make to get flush the piece.